How to Choose a Knife for Cooking [5 Knives with Buying Guides]
How to choose a knife for cooking is a common question for a new kitchen owner. Different people need different knives for different purposes. But, you may discover some of the knives which are truly much better for cooking.
According to my research, 5 different knives I found on the market are truly much better for cooking. I would love to suggest that you check out the following knives to understand which knives are good options. So, stay tuned and clear your confusion.
How to Choose a Knife for Cooking?
A knife is a piece of essential equipment in your kitchen. A perfect knife provides the best service and makes life easier. But, how can you understand which knife is a good option for you or your cooking? Well, from the following knifes list, you may clear yourself to understand what knife is used to make fruits and vegetables or other cooing elements?
1. Chef Knife
Generally, a Chef knife is an all-rounder knife. If you think you need only a knife that works in multi-purposes, you should use a Chef knife. You can use a Chef knife for cutting, slicing, chopping, and others. In addition, a knife is a good option for vegetables, meat, chicken, and a couple of things.
2. Paring Knife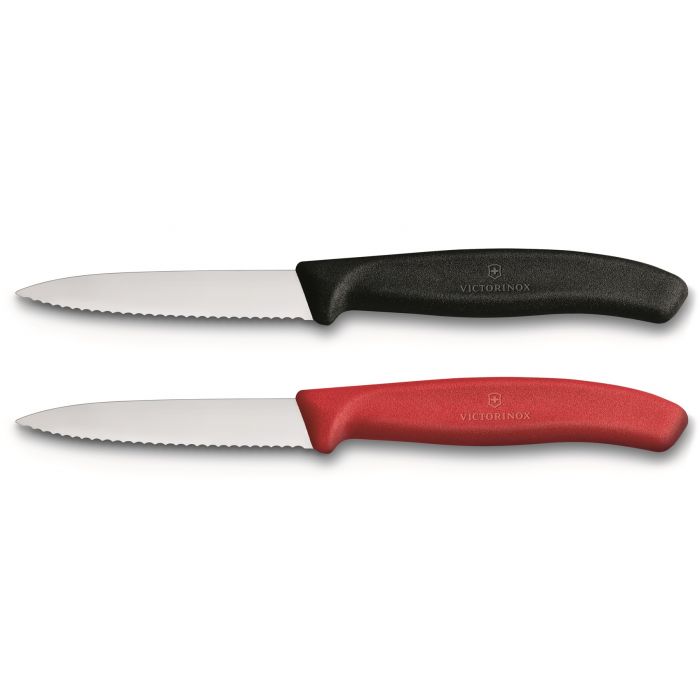 Do you want to cut fruits professionally, which helps you get the perfect slice or size of food? If yes, then you can check the Paring knife for you. Though it is a good option for cutting fruits, you can also use this knife for other purposes without any hassles.
3. Serrated/Bread Knife
If you pass your time cutting vegetables and other soft things, but your knife doesn't provide you a professional feeling, then you can check a Serrated knife. No doubt, this knife is also called a vegetable cutting knife. You can choose multiple sizes whatever you comfort.
4. Carving Knife
In most of the chicken shops or grill restaurants, you may see the Carving knife. This knife comes with a long blade and so sharpens so that the customers easily cut the meat of chicken as well as bone. So, you can check out this type of knife when you need to cut long chicken or meat.
5. Boning Knife
Boning knife comes with a narrow design. If you want to divide the bone and meat, then you can use a boning knife. Only a boning knife helps you to cut in perfect shape and without tearing meat from the bone. It is not only narrow enough but also sharp to use.
What Are Kitchen Knives Made of?
There are different types of material I found on the market which is used for a kitchen knife. But, stainless steel, metal, and aluminum are much popular than others. Most of the popular brands used high-quality 304 and 306 stainless steel for a kitchen knife.
On the other hand, the knife handle used wood and steel, which were properly finished to feel comfortable. But, wood handle is much popular than other materials. I hope that you may get your question answered.
Utility Knife Vs. Chef Knife
Generally, Utility knives and Chef knives come with the same working purposes. You can use these knives for cutting, slicing, chopping, and other purposes. There are also have some differences between them described below.
The utility knife is smaller than the Chef knife. You can use the Utility knife as a pocket knife, but you can never use a Chef knife in your pocket. However, the Utility knife takes some extra time to cut hard elements, but the Chef knife cuts the elements fast.
The ultimate guide to kitchen knives
Now, you have a complete list of different types of knives and their working process. However, from the following section, you will discover a complete guide to choosing the right one for your cooking. So, let's get started.
Knife Size
You need to choose the right size knife. Choosing the right size knife depends on which things you want to cut, slice, or chop. However, if you need to cut chicken, you can choose large size knifer. Similarly, if you need to cut small elements like butter, you can choose a small size knife.
Handle of Knife
When you think about comfort, you consider the right size handle and a comfortable handle. I would love to recommend you choose a wood finish handle to get maximum comfort. So, before considering a knife for your cook, you should check out this section.
Sharping the Blade
Some of the knife blades come with no sharing option again. It would help if you chose a knife blade that comes with high carbon to share the blade again without any broken problems. So, try to choose a sharing blade to get better performance.
Cost
Cost is an essential part of when you are going to buy any kind of product. However, if you want to choose a high carbon stainless steel blade knife from a popular brand, you may need to pay extra money for that.
FAQs (Frequently Ask Questions)
Q: How do I choose a kitchen knife?
Answer: You can choose the best kitchen knife to keep in mind some important things such as knife size, sharpness, blade materials, and other things. However, you can check out the above section to choose the best knife for your kitchen.
Q: What are factors to consider when choosing a knife?
Answer: There are plenty of factors you should consider when choosing a knife. First of all, you need to know which types of knives you need for your kitchen. Secondly, you need to consider the right size knife. Thirdly, handle comfort and easy to use. Finally, check out the knife durability.
Conclusions
I hope that the buying guides and different types of knives help you a lot to choose the right knife for your cook. It is easy to choose the right knife when you have proper data and research. Are you still confused about considering the right one? Then you may let me know in the comment box or provide any suggestions.
Hi, there; I am Arlene J. Clark. I am a cooking lover and a foodie girl. I loved cooking and traveling a lot. I have been cooking in a Restaurant and also for my home couple of years. I open this website to help people search for the best blogs for cooking foods, find the right kitchen products, suggestions, safe cooking, and lots.